Sri saradha Institute for Teacher Training College for B.ED
(Established under section UGC Act, 2006)
Accredited by NAAC
Rajaji salai, Narasingapuram, Attur, Salem - 636102
Our Founder
Founder :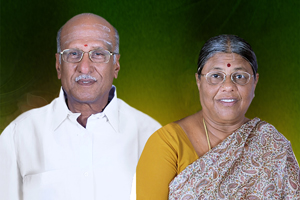 Here is person whose name is spoken with reverence. His name is closely interwoven with the upliftment of the society. He is perfect role model who has contrived a number of business He has been an instrumental person in shaping the lives of many. Two decades of untiring and strenuous efforts has lifted him from an BPCL dealer to a multifaceted personality in the field of education. As the Founder of Sri Saradha Matric Sri Saradha High School, Akchara Bala Bhavan, Sri saradha I.T.I, Sri Saradha Institutes of Teacher Education B.Ed., Sri Saradha Transport, Saradha Petrol Bunk Etc.,
He Says ............
If I can awaken in children
A Sence of beauty
A Joy in truth
An admission of ignorance
A thirst for knowledge
I am fulfilled ............
A disciplinarian who inculcates noble thoughts in children is none other than Shri. K.K. Rajhagopalan the Founder of Sri Saradha Charities & endowments. He sails from a small village, Kalyanagiri with school education at Belur, higher education of Govt. College, Salem and Trichy National College . His wife Mrs. K.R. Nalina Rajhagopalan the co-founder was a great support to him and helped him to reach his goal. They were blessed with one daughter who is now the correspondent of the college.
Sri Saradans salute the simple and laborious man who rose from BPCL dealer to this great height.
Co – Founder :
Tmt. A.R. Somiyadevi MA., MBA is a daughter of Thiru. K.K. Rajagopalan. She has been brought up by Thiru. K.K. Rajagopalan and Tmt. Nalina Rajagopalan in well manner. They have given her good Education and made her in master Education and business Administration. She got married with an Engineer by name T. Karthikeyan B.E Thiru. P.W. Meharotra, D.G.M. Bank of Baroda, Deputy General Manager, Regional Office, Tamilnadu spoke", I am really feeling proud to say that Tmt. A.R. Sowmiyadevi Karthikeyan is the best talented Administrator of the Sri Saradha Educational Institutions".
Student Development
Program
Teaching Practice at High Schools and Hr. Sec. Schools